7 Ways to Improve Customer Satisfaction in Field Service Organizations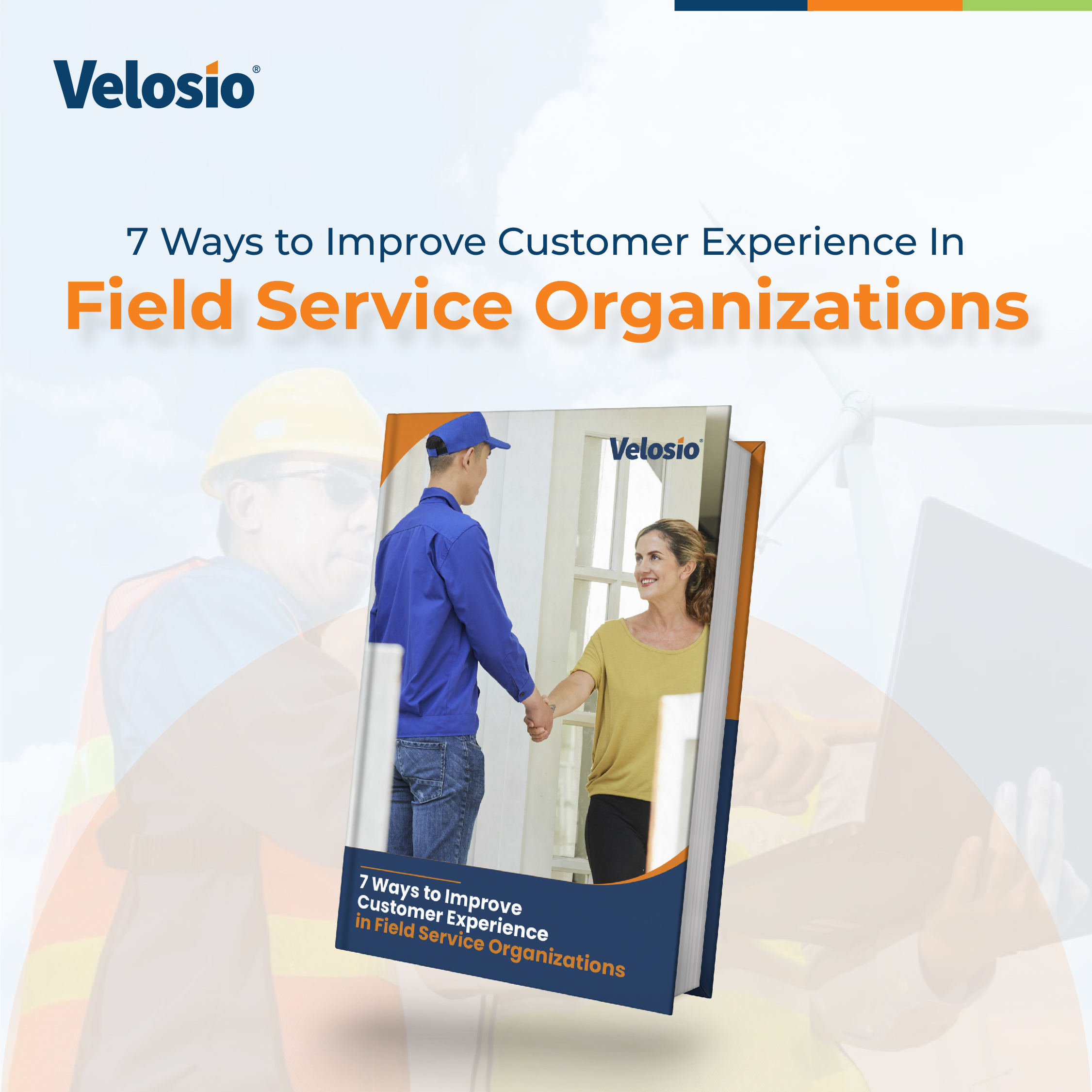 This eBook provides valuable insights and actionable strategies to help field service organizations improve technician productivity, which can ultimately increase customer satisfaction, reduce costs, and drive revenue growth. We have gathered expert advice from industry leaders and experienced field service professionals to provide you with a comprehensive guide to help your technicians perform their work more efficiently.
Introduction
In today's dynamic business landscape, delivering exceptional customer experiences has become the cornerstone of success for organizations across industries. As customer expectations continue to evolve, the ability to provide seamless and personalized service at every touchpoint has emerged as a crucial differentiator. Nowhere is this more evident than in the realm of field service, where the ability to promptly address customer needs and resolve issues on-site is paramount.
We understand the challenges faced by organizations striving to optimize their customer experiences. This eBook is designed to serve as your comprehensive guide, offering practical strategies and insights to help you enhance your customer interactions and drive long-term loyalty.
Throughout this eBook, we will explore seven key areas that can significantly impact your customer experience efforts. By focusing on these critical aspects, you will be able to revolutionize your field service operations and create meaningful connections with your customers.
Let's take a closer look at each of these essential strategies:
Communication: Discover how effective communication channels and techniques can improve service delivery and foster stronger relationships with your customers
Customer Feedback: Learn how to harness the power of customer feedback to identify pain points, gain valuable insights, and continuously refine your service offerings.
Mobility: Explore the advantages of a mobile-enabled workforce and how it empowers your technicians to deliver efficient, real-time service while staying connected with the office.
Empower Your Technicians: Unleash the full potential of your field service technicians by equipping them with the right tools, training, and resources to deliver outstanding customer experiences.
Preventative Maintenance: Understand the importance of proactive maintenance practices in mitigating downtime, improving reliability, and delighting your customers with seamless service.
Personalized Service: Delve into the art of personalization and discover how tailoring your service offerings to individual customer preferences can elevate their experience and drive brand loyalty.
Feedback: Highlight the significance of incorporating customer feedback loops into your operations, enabling you to continuously improve your service and surpass customer expectations.
Whether you are just starting to prioritize customer experience or looking to enhance your existing initiatives, this eBook will equip you with the knowledge and insights needed to thrive in the competitive field service landscape. Get ready to revolutionize your customer experience journey, elevate your service offerings, and establish your organization as a leader in field service excellence. Let's embark on this transformative journey together and unlock the true potential of your field service organization.
Way One: Communication
Delivering field services takes a great deal of effort. You have salespeople talking to customers, you have administrators scheduling jobs, placing work orders, and ordering inventory, you have technicians visiting customer locations, installing assets, servicing assets, and providing maintenance. And yet, you can get all that right and still have customers dissatisfied if your customer service is lacking.
High-quality customer service is critical in any industry, but especially in highly-competitive field services. You need to ensure customers love working with you because the reality is there are competitors out there already setting a high bar. If your customers are not getting the level of service they expect from you, they have the option to go elsewhere. Following some proven best practices can prevent that from happening.
This eBook is going to cover seven of the best ways field service operations can provide superior customer support. The first way: better communication. Communication is Key
Communicating and updating customers can be time-consuming, but it is essential. In field services, half the battle in retaining customers is providing efficient, effective, timely communication.
Three of the most important best practices you can follow are:
Communicate service updates early and often.
Utilize multiple communication channels.
And allow customers to self-schedule appointments.
Communicate Service Updates Early and Often
One of the most effective things you can do to enhance customer service is to provide updates early and often. Whatever the job is—an install, maintenance, or repairs —your organization needs to reach out and let the customer know when it is scheduled and when your technician is on the way. Let the customer know if your technician hits traffic or if you need to adjust your ETA for any other reason. In field services, it is impossible to over-communicate. Customers need your help to keep equipment running. Their livelihood often depends on it. So, they are not going to get mad when you send them updates.
Maintaining Good Communication is Easier Said Than Done
That is not to say that maintaining elevated levels of communication is easy. It is not. If your technician is stuck in traffic, it is not convenient for them to pull over and send a manual update delaying them further when they try to merge back in. That is inefficient and not scalable. So, you need to automate as much communication as you can. Ideally, automated notifications should trigger any time there is an ETA update on a job.
Utilize Multiple Communication Channels (Phone, email, chat, SMS)
Every customer has different communication preferences. Give them the option of using their preferred service, whether by phone, email, chat, or SMS text messaging. Not just for contacting your company either, give them the choice of how your personnel will contact them.
There is a strong generational component to these communication preferences. Only some people want to pick up a phone and report an issue. Some people prefer to go through chat while they multitask instead. Other customers in other situations might prefer to pick up a phone. For example, if they have a more complicated issue they want to ensure is understood correctly. Giving your customers this choice of communication mode goes a long way to ensuring they are happy with your service.
Allow Customers to Self-Schedule Appointments Through an Online Portal Giving customers choices can extend even further, including how they schedule appointments. Let them self-schedule through an online portal. Web portals can be an effective intake method for all types of requests. They do not necessarily need to be for low-priority service needs.
If all requests feed into the same field service platform, you can triage and assign work orders for customer requests through all communication channels you have made available.
Way Two: Gather Feedback
You might hit all your financial targets for the year and have your technicians hit team-high first-time fix rates, but if you are not providing reliable customer service, you might still lose customers. Worse, you might not even know why.
High-quality customer service is critical in any industry, especially in highly-competitive field services. You may think your organization delivers a good customer experience, but you will never truly know if you are not collecting customer feedback. Even if the answer is yes, feedback often reveals essential information your organization may not see from the inside. Sometimes it takes an outside perspective to push your field service team to the next level.
Customer Feedback Directly Leads to Improvements
It sounds trivial, but sometimes it takes honest customer feedback for even seasoned field service providers to be reminded that they are in a service industry. You are not just delivering a product, you are providing a service, and that requires a level of care, attention, and interaction with customers that takes a great deal of effort.
The only way you'll know whether you're providing good customer service is to ask your customers. Customer feedback leads to insights which lead to changes in your process. That leads back to seeking new feedback, and soon, you have established a powerful, self-sustaining feedback loop of self-improvement. The most challenging part of seeking feedback is often just getting started. Who do you ask first? Keep it simple, but keep it sustained. You want to collect regular streams of customer feedback.
It is not as hard as you think, either. Here are four of the most important best practices you can follow are:
Send surveys and actually follow up on results
Log cases to track complaints
Create reports that track KPIs
Collect e-signatures via mobile devices
Send Surveys & Actually Follow Up on Results
Sending feedback surveys is a straightforward way to connect with your customers once a job is complete. As we suggested above, keep it simple. Ask open-ended questions, like:
Did we do a good job?
Would you use us again?
Would you recommend us to other organizations?
Those simple questions can illuminate how customers feel about working with you. Asking is only the first step, though. After you have asked and received an answer, you must actually do something with that information. Follow up on your feedback results. Are there improvements you should make? Then produce a plan right away to make them.
Log Cases to Track Complaints
Some of the most important times to collect feedback are when things go wrong. These are your greatest learning opportunities as a service provider. When there is a reported issue—or even a potential issue—track it. Get that issue logged into a system and get an owner assigned to it who can track it. Then you have accountability. Repeat that logging process whenever there is an issue, and you can generate a meaningful report.
What kinds of complaints are coming in?
Are you seeing more of that type over time?
What other trends are you seeing?
Logging problems this way makes your response efforts measurable.
If you do not measure it, it does not matter.
Create Reports that Track KPIs
Performance data is another form of feedback, and high-performing field service operations track many of their key performance indicators (KPIs).
For example, one of the most popular metrics in field services is mean time to repair (MTTR), which measures how long it takes from when a customer first reports an issue to when you repair it. Track those metrics over time, and you will also be able to generate insightful reports from them. You will be able to identify trends and future performance benchmarks.
Collect e-Signatures via Mobile Devices
Connected to gathering feedback is collecting e-signatures on mobile devices once work is completed. They are another form of customer service you provide and information you collect that can improve your customers' experiences. Collecting signatures is one of those little things you can do to make your customers' lives as easy as possible. Your technician is showing your customer that they are confident the work is complete. And they can do it just by grabbing the phone or tablet they have with them to collect a signature. That is much easier than asking them to sign some paperwork that might get lost. Or wait for receipts to be mailed.
Way Three: Mobility
In an increasingly digital and connected world, businesses are leveraging the power of technology to not only enhance their operations, but also improve the customer experience. With one-click ordering and pop-up notifications becoming increasingly prevalent, businesses must innovate to meet customer expectations.
One such innovation is field service mobility. It's transforming the way organizations manage their field service operations, and opening the door to improved efficiency, productivity, and customer satisfaction. Field service mobility unleashes the full potential of your remote workforce, providing them with the necessary tools to optimize their operations, communicate effectively with customers, and collaborate seamlessly with experts in real time.
Embracing the Mobile Workforce
What was once a futuristic concept, the mobile workforce is here and changing the dynamics of field service operations. By implementing field service mobility solutions, organizations can empower their technicians with real-time access to critical information, customer data, real-time reporting, interactive scheduling – and more.
This level of connectivity not only enhances the operational efficiency of your technicians, but also improves their ability to offer high-quality customer service. Field service mobility captures an entire business ecosystem into a single mobile technology to improve virtually all aspects of operations. Leveraging Geofencing Capabilities with Field Service Mobility
Using field service mobility technology such as Dynamics 365 Field Service, organizations can leverage geofencing capabilities to improve the accuracy and efficiency of their field operations.
By looking at the GPS coordinates of technicians and job sites, businesses can more easily verify if technicians are within range or on target to meet their next call.
Geofencing capabilities of field service mobility also allows businesses to provide customers with real-time travel status updates and estimated arrival times, thereby significantly boosting customer satisfaction.
This technology provides an added layer of assurance, giving businesses confidence in their operations. When a technician logs in and out of a job, the system can automatically make a note, ensuring that the organization has a precise record of their movements and activities.
Collaborating with Experts via Remote Assist
One of the most exciting features of field service mobility is the ability for technicians to collaborate with experts remotely. Using augmented reality technology, technicians can share their view of a problem with experts located in office locations or elsewhere.
This real-time collaboration allows technicians to tap into the deeper industry knowledge of their colleagues, enabling them to solve issues on the spot without needing to reschedule or return at a later time. This not only saves time and effort but also significantly improves customer satisfaction by resolving issues promptly.
From a staffing perspective, this technology means that organizations can send technicians out in the field, even if they're not true experts. They can draw from the depth of organizational knowledge through this technology, fostering a collaborative and knowledge-rich working environment.
Field service mobility is more than just a technological trend; it's a game-changer for businesses with remote operations. It empowers technicians, enhances operational efficiency, improves customer satisfaction, and fosters a culture of collaboration and shared knowledge.
Way Four: Training
In a world where customer expectations are higher than ever, it's crucial to arm your field service technicians with the knowledge, skills, and tools they need to deliver outstanding service. Training in both industry-specific hard skills and customer service soft skills is critical to delivering high-quality service consistently.
But how can you ensure this training is effective and translates into real-world results? Read on to learn how to empower your technicians to give optimal service through training and technology.
Implement Technology to Standardize Processes
In today's fast-paced digital era, technology plays an integral role in streamlining processes and standardizing business operations. It's no longer just about opening a work order and sending out an experienced technician. It's becoming more challenging to find qualified field technicians, and assets are often more complex and technical to fix. These challenges make it harder to provide consistent high-quality service to customers.
With technology, you can ensure your technicians follow standard procedures at each field appointment. By simply opening up the work order, technicians have access to a virtual guide, which provides clear directions and increases their chances of success. Embracing such technology is crucial in ensuring your workforce is equipped to deliver premier service.
Match the Right Technician to the Job
Assigning the right technician for the job can be a daunting task, especially in high-pressure situations involving complex assets. Traditional manual methods of determining which technician is best suited for a specific job can be cumbersome and time-consuming. This type of institutional knowledge is quick to dissolve as employees retire or leave the business.
Modern field service solutions can help automate job assignment and scheduling. Solutions like Dynamics 365 Field Service match the right technician for the job based on multiple factors such as skill set, experience, and proximity.
This not only optimizes resource utilization, but also enhances service delivery by ensuring that the technician with the most relevant expertise handles the job.
Provide Access to Knowledge-Based Solutions
Even with the best training, field service technicians can encounter challenges or unfamiliar situations while on the job. In such cases, the collective wisdom and experience of other technicians can be a lifesaver.
Building a knowledge base and providing technicians access to it can significantly enhance their problem-solving capabilities while on the job. If a technician faces a tricky work order, they can refer to your internal knowledge base to see if someone else has encountered a similar situation and to learn from their experience.
In the past, technicians had to refer to bulky user manuals stored in the back of their trucks, or reschedule the appointment to another day so they could research a fix. Today, all your technicians need to do is pull up the information on their mobile devices.
This ensures that they don't have to reinvent the wheel when dealing with an issue that has already been addressed in the past. It can also help with scheduling, since less experienced technicians can now respond to work orders knowing they have the knowledge base at their finger-tips.
Empowering field service technicians through ongoing training and the use of modern technology is critical in today's digitally-driven and customer-centric business environment.
Way Five: Going Beyond the Break-Fix Model
You've probably heard the old adage 'if it ain't broke, don't fix it'. While this philosophy served past generations, it no longer applies to our fast-paced and technology-driven world.
Waiting until assets break no longer meets the growing needs and expectations of customers. Preventing breaks from occurring in the first place is now the new normal.
Service-based businesses must go beyond the outdated break-fix model to offer customers modern, technology-powered preventative maintenance service offerings. Doing so not only extends the life of assets, but also ensures customer satisfaction, creates upselling opportunities, and allows remote and proactive monitoring of asset health.
Read on to learn how to use technology to offer preventative maintenance services to your customers.
The Need for Preventative Maintenance
In the break-fix model, service technicians are only called when an asset breaks or malfunctions. This approach often results in longer downtimes, increased costs, and customer frustration. Scheduling regular preventative maintenance ensures assets continue to function without a hitch. Regular maintenance also extends the life of assets, which reduces replacement costs and gives customers peace of mind. Additionally, maintained equipment tends to operate more efficiently and more safely, thus reducing the risk of safety hazards in the home and workplace.
Not only does this proactive approach keep assets in good condition, but it also allows service technicians to identify potential problems before they escalate into major issues. This can potentially keep warranties up-to-date, which certainly adds to customer satisfaction.
When their assets are routinely maintained, customers feel assured their investments are in good hands, which contributes to their overall satisfaction and loyalty to your business.
Preventative Maintenance Agreements
Incorporating preventative maintenance agreements into your service contracts can further boost customer confidence in your business. These agreements serve as a form of insurance for customers, ensuring that their assets are regularly serviced and cared for.
Preventative maintenance agreements can also help with your bottom line, since you aren't just waiting for service calls when something breaks. Offering ongoing maintenance reduces your risk of business interruptions when things slow down.
Upselling Opportunities and Customer Awareness
Preventative maintenance visits are excellent opportunities to upsell new products and services to your customers. During these visits, technicians can inform customers about other services your company offers that they may not know about, but are interested in.
For example, a pest control company could inform their customers about their new termite control service. This not only provides an upsell opportunity, but also helps customers understand the range of services you offer, and solves a problem they didn't know they had.
As technology advances, the number of devices connected to the internet continues to grow. The Internet of Things (IoT) has opened up new opportunities for businesses, especially as more service-based assets are connected to the internet.
IoT now enables businesses to proactively maintain assets from afar. Assets connected to the internet can send you and your customers real-time data on various parameters like temperature, pressure, and voltage, enabling you to monitor asset health remotely.
Consider the example of doorbell cameras. When the battery gets low, the device sends a notification to your phone. This same concept can be applied in more complex ways to other assets, generating what we call IoT alerts.
If a parameter on an HVAC system crosses a preset threshold, the system can automatically generate a report and notify a technician. This proactive approach ensures that you're not waiting for something to break, but instead, you're taking steps to prevent breakdowns before they happen.
Embrace the Future with Preventative Maintenance
Going beyond the break-fix model and embracing technology-driven preventative maintenance solutions. By adopting this forward-thinking approach, companies can stay ahead in the competitive field service industry, deliver top-notch service, and create lasting customer relationships.
Way Six: Personalized Service
Delivering personalized service is essential for businesses to succeed in today's competitive market. Everywhere we look, online ads and recommendations are customized to our preferences, needs, and desires.
Because personalization is ingrained into our daily lives thanks to the internet, customers now expect a higher level of service in all business interactions – whether online or off. One of the best ways service-based businesses can differentiate themselves from the competition and exceed customer expectations is to offer personalized service. Read on to learn why personalized customer service is so important and an easy way to incorporate it into your business.
Why Personalized Service is So Important
Not only do customers expect businesses to understand their unique needs and preferences, but they also expect businesses to provide a tailored experience to meet those needs. By gathering and analyzing customer data, service-based businesses can gain valuable insights about their customers' behavior and preferences. Armed with data-driven insights, businesses can better anticipate their customers' needs and provide personalized service that exceeds their expectations.
And exceeding expectations leads to increased customer loyalty, higher levels of customer satisfaction, and ultimately, greater business success. By investing in technology and using it to personalize service, businesses can differentiate themselves from the competition, gain loyal customers, and gain a competitive edge in the marketplace.
Know Your Customers Inside and Out
Providing personalized service starts with knowing your customers inside and out. This means showing up to service calls knowing more than just the customer's name and contact information.
Technology like Dynamics 365 for Field Service makes it easy for technicians to quickly access past work orders, cases, and activities for a particular customer. Before walking into an appointment, your technicians will know what services were done in the past, what needs to be done now, and what can be done in the future to exceed customer expectations.
Review History of Work Orders, Cases, and Activities
The burden of information should never fall on the customer, but unfortunately this happens too often when new technicians arrive at jobs they're unfamiliar with. When a technician arrives on site knowledgeable about the customer's past experience, your company looks prepared, capable, and professional.
By reviewing the history of work orders before arriving at the job, technicians may also be able to complete the job more quickly, or at the very least set realistic expectations to the customer.
Analyze Asset Information in Advance of Onsite Visits
Before going on site, technicians can also analyze information about the customer's specific asset to understand its current state and to anticipate any potential issues. Preparing for the visit beforehand ensures technicians walk onto the job with the right tools and equipment, saving time for both your company and your customer.
By leveraging technology, technicians who have never been to the site can be knowledgeable about past visits and history, making it easier for them to provide personalized service.
Empowering Field Service Technicians with Dynamics 365
Offering this level of personalized service to customers is more accessible than ever before, thanks to advancements in technology. Field service businesses can begin to modernize by leveraging Dynamics 365, a suite of tools designed to help service organizations exceed customer expectations. With Dynamics 365, technicians can access customer information, work orders, and asset data in real-time, from anywhere. This allows them to provide personalized service that meets the unique needs of each customer.
Providing personalized service is essential for service-based businesses to succeed in today's competitive market. By using technology to analyze customer history and asset data, technicians are more prepared to offer advice and answer customer questions. High levels of personalized service are considered a welcomed courtesy, which can translate into five-star reviews and loyal, repeat customers.
Way Seven: Gather Feedback
Field service businesses thrive on customer satisfaction, but sometimes it's hard to gauge how customers truly feel about the service you provide. Without asking customers for feedback, businesses will struggle to improve and grow. One of the best – and easiest – ways to gauge customer satisfaction is by gathering feedback.
This is not just vital to identify where your business excels, but also to pinpoint areas that need improvement. Customer feedback offers invaluable insights for field service businesses. It serves as a direct line of communication with the customer, allowing you to understand precisely what your customers appreciate about the service you provide.
Not only does gathering feedback improve the quality of your products and services, it also enables you to maintain a competitive edge in the market. Read on to learn how to gather feedback from your customers to improve the quality of your field services.
Gathering Feedback: The Pulse of Your Service
Feedback is the heartbeat of your business. Whether your customers are satisfied tells you a lot about the service you provide and gives you valuable insight on how to run your business.
The key to harnessing the power of feedback is to not only ask for it, but be open to it – regardless of whether it's positive or negative. Whether through surveys, follow-up emails, or asking customers on-site, it's important to understand how customers feel.
Following Up on Results: The Pathway to Improvement
Gathering feedback is one thing. The value of information lies in what you do with it. It's essential to critically analyze the feedback you receive to identify trends, areas of improvement, and opportunities for growth. By doing so, you can implement changes that benefit both customers and your business. Acting on feedback can significantly improve the customer experience, leading to increased customer loyalty and positive referrals.
Logging Cases to Track Complaints: Making Every Complaint Count
No business is immune to complaints. But it's how you handle these complaints that sets you apart.
By owning and logging every complaint, you can monitor trends and pinpoint recurring issues. This approach helps ensure that every complaint is acknowledged and resolved. It sends a clear message to your customers that their concerns are taken seriously, which in turn builds trust and enhances customer satisfaction.
Documenting complaints also provides a valuable learning opportunity for your entire team. This can foster a culture of accountability and continuous growth within the organization.
Tracking Key Performance Indicators: The Pulse of Your Business
Creating reports that track key performance indicators (KPIs) such as Mean Time To Repair (MTTR) is a crucial aspect of keeping a pulse on customer satisfaction. These metrics provide an objective measure of your success, helping to identify areas where you can streamline operations, improve efficiency and customer service.
Tracking these types of metrics can also help strategic decision-making by uncovering trends and patterns. For instance, if the MTTR increases during certain periods, you might consider allocating more resources during those times. Similarly, if specific service lines have consistently higher MTTRs, you may need to investigate and address the underlying causes.
Embracing Digital Solutions: Simplifying Customer Interaction
In this digital age, customer service extends beyond personal interactions. It's about using technology to make every interaction with your customer easier. One of the simplest ways to simplify customer interactions for service based businesses is by offering to collect e-signatures via mobile technology on-site, such as Dynamics 365 for Field Service.
Collecting e-signatures allows for immediate confirmation of services, which eliminates the need for time-consuming paperwork and physical signatures. You can confirm service delivery promptly and generate confidence in your services among your customers.
Customers today expect nothing less than high-quality experience when interacting with businesses. Businesses that invest time and effort in gathering feedback and improving their services based on this feedback are setting the bar high.
With a myriad of options available to them, customers will not hesitate to switch providers if they don't receive a high level of service. Gathering feedback, analyzing it, and making improvements based on it is no longer optional for field service businesses – it's the roadmap to your success. So, embrace it, learn from it, and use it to elevate your services to new heights.
Conclusion
We hope that the insights, strategies, and practical tips shared throughout these pages have provided you with a clear roadmap to enhance your customer experience initiatives and drive meaningful change within your field service organization.
By focusing on the seven key areas we discussed—communication, customer feedback, mobility, empowering your technicians, preventative maintenance, personalized service, and feedback—you have the tools to transform your customer interactions and exceed their expectations at every step of their journey.
Remember, the path to exceptional customer experiences is an ongoing process. It requires commitment, dedication, and a willingness to adapt to evolving customer needs and preferences. Embrace the mindset of continuous improvement and embrace the opportunities to innovate and refine your service offerings.
As a Microsoft partner specializing in Dynamics 365 for field service, we are here to support you on your journey. Our expertise, coupled with the power of technology, can help you leverage the full potential of your field service operations and deliver unparalleled customer experiences.
We encourage you to implement the strategies outlined in this eBook and embark on this transformative journey. Be proactive in seeking customer feedback, analyzing data to uncover insights, and refining your processes and services based on those insights. Embrace the power of effective communication, empower your technicians, and prioritize personalized experiences to foster lasting customer relationships.
Remember, the ultimate goal is to create loyal customers who not only return but become brand advocates, sharing their positive experiences with others. By prioritizing customer experience, you position your organization as a leader in the field service industry, setting the stage for long-term success and growth.
Visit our ()Field Service Customer Experience Hub to gain valuable insights and expert tips on optimizing your field service operations. From enhancing customer satisfaction to streamlining service delivery, our blog category offers a wealth of resources to help you excel in the field service industry.
About Velosio
At Velosio, we specialize in delivering cutting-edge solutions for field service organizations through our extensive experience with business applications. With a focus on enterprise resource management (ERP), customer relationship management (CRM), and cloud services, our team comprises highly skilled and tenured professionals dedicated to optimizing your field service operations.
As a testament to our commitment to excellence, Microsoft has recognized Velosio as a top-performing partner worldwide, placing us among the top 1% in the industry. This achievement is a result of our strategic partnerships with independent software vendors (ISVs) and our ever-growing portfolio of solutions and services tailored to drive what's next for your professional services business.
Our mission at Velosio is clear - to empower our clients to unlock business value swiftly, simplify technology deployment, gain deeper data-driven insights, and continuously explore innovative solutions to propel their field service operations forward.
When you partner with Velosio, you gain access to a robust network of peers, external resources, and engaging community events. Our collaborative environment ensures that you receive the support needed to navigate your journey towards powering your business growth to new heights.
Learn more about how a full-service technology partner like Velosio can help your organization transform. ()Contact us to schedule a consultation with a member of our consulting team.
www.velosio.com | 888.725.2555 | info@velosio.com
Download
View Source